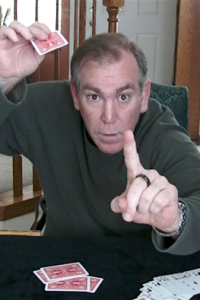 Glenn Morphew
Hello and welcome.  I have been entertaining people at private parties, corporate events and trade shows for almost 40 years.
I was honored to be selected as a "Pivothead Pro" by the Pivothead Recording Eyeware Company.  Pivothead Pros are chosen from a select group of individuals who have a special skill or talent.  They consist of hardcore athletes, tough sportsmen, unique and interesting personalities, those with outrageous hobbles or extreme dedication, specialized professionals, artists and people who just do awesome stuff.
If you're a magician looking for real world, quality magic or instruction, please visit my Shop and Streaming Tutorials section. There are detailed descriptions (and in many cases video demos) of the tricks and sleights I teach.  For the most part, the shop has DVDs that have only been available at lectures until now.
I recently added some streaming video tutorials after I found a platform I really like. I like the platform because you get the best of both worlds… immediate access to your purchase (like a download) with chapter navigation like a DVD. 
I take pride in the material I offer, the way I teach it and my service after the sale.  I only release material I personally use. My unique teaching style insures you will quickly grasp the "hows and whys" of the sleights and tricks you learn.  I  always include video segments shot from your POV (point of view) to give you the best learning perspectives.
Plus, when you buy any product from me, I'll provide any additional help you may need. Help is just an email away.
Please contact me with any questions you might have.
Thanks for visiting!
Glenn